Jeffrey Schipritt
Visual Artist
Everything is a story. Nothing is arbitrary.
Artists are observers, carefully crafting impressions into media or performances. A visual artist, I use shapes and colors to define the message, to create an impression. Impressions sometimes bright, bold, provoking; as often, simply soothing, pleasing.
My background in graphic design has had an obvious impact on my art. Design without gimmickry, using straightforward shapes and uncomplicated color palettes to tell the story. The craft as important as the visual. The visual made as simple as possible.
Cultures, too, have had an impact on my art. Often the themes presented in my art are inspired by the myths and traditions of our world. All cultures play a role in our history. We are the stories and observations of all who have preceded us.
The primal, allegorical nature of portrayals found in Native American, Asian, Pacific Island, African, and Australian Aboriginal societies influences my designs and palettes. Sensitive to concerns presented through cultural appropriation, I respect these contributing cultures, studying them to understand their history, appreciating their impact on life and art.
Cultures have defined humankind. Stories handed down to be shared.
Observe. Relate.
Keep it simple.
The digital art prints below are some of my latest illustrations and designs originally created as vector art in Adobe Illustrator. Limited editions of the digital art are printed with pigment inks on smooth matte finish 100% cotton rag paper.
Please contact me at Route 1 Design for additional information regarding art prints from my original digital art.
Original Digital Art Prints Portfolio
Click the art images below to link to a larger view.
Borne
16" x 16"
Early birds.
Beware
16" x 16"
Have a care, bear.
Ouroboros
16" x 16"
Second chance, or second helping?
Preyer
16" x 16"
Mercenary or missionary.
Fathom
16" x 16"
Six feet, eight arms, tentacles.
Resolve
16" x 16"
Going out on a limb.
Makers
16.5" x 22"
What have they wrought?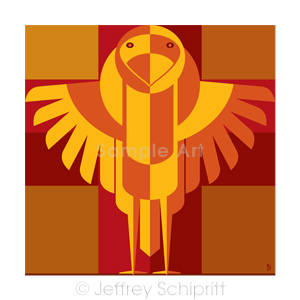 Herald
16.5" x 16.5"
This could be good news, though probably not.
Birth
16.5" x 22"
Begin being.
Constrained
16" x 16"
Expect nothing out of the ordinary.