CMYK, RGB, or B&W. Picas or pixels. Vector or bitmap.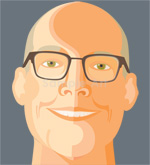 "As the Creative Director at Route 1 Design and as an experienced graphic designer, I believe that design for communication should be clean, intuitive, memorable and always achieve the desired effect.
To assure the design for your project meets your specific goals and expectations, I listen to you, comprehend your objectives, and then provide an effective visual solution tailored to meet your needs."
Jeffrey Schipritt
Creative Director, Owner
Route1Design.com
Whether printed, imprinted or animated, effective communication requires the skills of a experienced, versatile graphic designer.
Let me introduce myself.
I am a professional graphic artist with a background in marketing, advertising, and event promotion. Often complimented for my ability to listen, understand, and provide effective solutions, I place special emphasis on identifying client expectations and meeting project goals. I have been especially successful working with small businesses, start-up entrepreneurs, not-for-profit organizations, community associations and event planners.
Proficient in both print and online design, I enjoy the unique creative opportunities offered through both. I am always happy to apply my print expertise plus my knowledge of the Internet to new communication projects and challenges.
My creative skills include logo design, corporate identification and product branding, newspaper and magazine advertisements, printed collateral, conceptual design for the Internet, event promotions and imprint design, illustration, and typography. Though I primarily produce art and graphics digitally on a Macintosh, I will also sit down at the drawing table to create traditional drawings and ornamental lettering.
My design experience has been shaped by working in publishing, corporate communication, small business development, marketing, sales, training and education, nonprofit events management, and community relations. In all cases, I am actively involved in research, strategy, conceptual mock-ups, copywriting, final design, production and delivery.
I am versed in the Adobe Creative Suite including Photoshop, Illustrator, Dreamweaver, InDesign and Acrobat.
With regard to business operation, I possess excellent communication skills plus staff and project management abilities. I work well in a team environment and always maintain good interpersonal rapport.
I have lived in Connecticut, Massachusetts, California, Florida, Maine, and currently reside in Rhode island. Wherever I live, I like to actively participate in local community programs and causes. I enjoy photography, traveling, music, native landscaping, and working to preserve the natural environment. And, I especially enjoy all aspects of art and design.
Please contact me if you feel I can help you meet your communication goals. I am available for consulting, contract or freelance design projects.
I look forward to the opportunity to discuss your expectations and how I can benefit your creative team and positively impact the success of your marketing efforts.